Renuvion J-Plasma
Even those of us who do all the right things (wear sunscreen, eat a healthy, stick to skincare routine) can't always battle signs of aging on our own. Traditionally, surgical lifting and tightening procedures like facelifts, abdominoplasty, and tummy tucks were the only option for minimizing sagging skin and looking more youthful. But the last decade has brought us some truly remarkable cosmetic technology, Renuvion J-Plasma Skin Tightening, helping provide fantastic results without the cost, downtime, or discomfort of surgery.
At Castleknock Cosmetic Clinic we are always on the lookout for safe, effective solutions for patients who aren't quite ready for skin removal surgery—and we're excited to now offer Renuvion skin tightening.
Minimally invasive skin tightening
Renuvion is the world's first minimally invasive skin tightening treatment that combines two energy-based technologies: radiofrequency energy (RF) and cold helium plasma.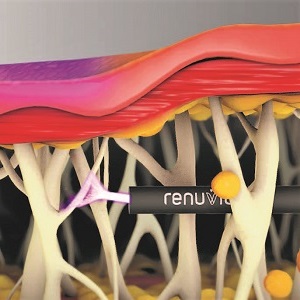 Radiofrequency
RF energy has been used in the cosmetic medical industry for years and has a long, proven record of both safety and efficacy. RF works by heating the deep tissues under the skin's surface to trigger an immediate contraction and prompt collagen production. It helps thicken, firm, and smooth skin over time for a natural improvement in tone, texture, and firmness.
Helium
Cold helium plasma is created when helium gas is electrically charged and converted into this fourth state of matter (Solid, liquid, gas, and plasma). The plasma generated from helium (called J-Plasma) instantly heats the tissue while the helium gas rapidly (within a tenth of a second) cools your skin tissue as it is treated with Renuvion energy, keeping you comfortable and protecting surrounding tissues.
The combination of these two energies—one to heat and one to cool, allows the Renuvion device to heat tissues to a more effective temperature than other skin tightening devices. That means we can treat more severe sagging in a single treatment, provide improved and more drastic results, and minimize recovery while keeping you safe and comfortable.
Renuvion Suitable Candidates
Renuvion is the world's first minimally invasive skin tightening treatment that combines two energy-based technologies: radiofrequency energy (RF) and cold helium plasma.
Suitability
Whether you're gearing up for a milestone birthday, a long-overdue beach holiday, or a special event, you want your outer self to match your inner confidence. Renuvion is used to gently contract tissue beneath the skin in precisely targeted areas. Because the Renuvion device is so versatile, it can be used nearly anywhere on the body to improve the appearance of loose or sagging skin, and crepiness.
Suitable candidates are healthy people between the age of 30 to 80 with lax skin. Skin that is not too loose to require surgical removal.
Areas
Common problem areas we often treat include:
Lower Face
Jawline
Neck
Arms
Abdomen
Saddle bags
Back
Knees
Tightening
During your consultation, Dr Kahlout will evaluate your skin elasticity and texture in the areas of concern. During the frank and honest consultation he'll determine if Renuvion is the best choice for providing you with optimal results. Although Renuvion is recognized as the most effective minimally invasive skin tightening solution available, some patients with severe laxity or skin excess will still need a traditional surgical procedure for skin removal.
The Procedure
Your Renuvion skin tightening procedure is performed at Castleknock Cosmetic Clinic in Dublin. While the procedure is considered minimally invasive, the great results we can achieve require small incisions so the Renuvion device can be inserted.
Depending on the severity of your concerns and area(s) being treated, your treatment may be performed under local numbing anaesthesia with or without light sedation. Dr Kahlout will discuss which form of anaesthesia he recommends as he develops your treatment plan.
Once you are fully numbed and comfortable, the surgeon will strategically make one or more tiny incisions in the treatment area, through which the Renuvion probe will be inserted just underneath the surface of the skin.
This allows for precise, targeted treatment. The small 3mm probe is activated by the surgeon to emit RF energy to deeply heat the underlying tissues while the cold helium plasma simultaneously helps transmit the plasma energy and cools the tissues.
During this process, our experienced surgeon will control the temperature, timing, and location of the device to make sure you receive a safe, effective treatment. When your procedure is finished, you'll be able to return home with a bandage over the incision sites. Depending on where you received treatment, Dr Kahlout may also recommend a compression garment to minimize swelling and support optimal healing and results.
Results of Renuvion
J-Plasma skin tightening is a popular skin tightening option where results appear in two stages:
An immediate skin contraction and improvement in skin texture and firmness that takes shape within just a few days.
Long-term, gradual tightening and continued skin quality improvement over several months as swelling minimizes and your body creates new collagen in the area.
You can expect to start getting excited about noticeable results after a month or two, and these results should last for a long time to come. That's because Renuvion triggered natural tissue remodelling and collagen-building in the area. Your results will not wear off; rather, you'll enjoy a younger look and hit rewind on the aging process.
Because the natural aging process will continue, many patients opt for maintenance treatments every couple of years or so to keep their youthful look for many years to come.
Recovery & Aftercare
After your treatment—and once the local numbing wears off—it's normal to feel localized soreness and swelling. This can last a few days, though this discomfort is typically relatively mild and short-lived, and is like what is normally experienced from a liposuction procedure.
You can expect to take it easy for a few days before returning to normal daily activity after your treatment. Our patients who receive face treatments or targeted treatment of larger areas report that they typically feel comfortable socializing and getting back to all of their normal activities after about a week.
Renuvion Combination
During the procedure the Renuvion energy is applied underneath the skin, heating the collagen and other structures to the temperatures needed for optimal tissue contraction. This heating is done quickly and the tissue is cooled back to baseline in less than 0.1 of a second. We found that Renuvion can help enhance results from a number of other procedures, both surgical and minimally invasive.
VASER
Renuvion + VASER. Liposuction with VASER is one of the most effective ways to slim down areas of stubborn fat virtually anywhere on the body. VASER is great in helping skin elasticity. Patients who have poor skin elasticity from childbirth, aging, or weight loss may not get the results they want with VASER liposuction alone. Renuvion can further smooth and tone areas that have been treated with liposuction.
MiniLift
Renuvion + MiniLift. Those who have smaller areas of bothersome facial fat can achieve a beautiful, taut contour by combing the minimally invasive MiniLift face lifting procedure with Renuvion. Renuvion can target further skin contraction in addition to the mechanical lift achieved by placing internal support sutures to lift the lower face.
Resurfacing
Renuvion + Skin Resurfacing. While Renuvion does help improve skin quality, patients who are concerned about sagging facial skin and wrinkles, dark spots, or sun damage will be pleased with the overall improvement this power duo can provide.>ither as a standalone treatment or in combination with fractional carbon dioxide skin resurfacing.
Why Renuvion Plasma
Less Invasive
The use of Renuvion does not require skin excision, and therefore is considered a minimally invasive procedure. The device is inserted under the skin through small entry points, which reduces post-operative discomfort and scarring. The procedure is minimally invasive with no surgical removal of tissue.
Short Downtime
With the use of small entry points and minimal disruption of the tissue, patients experience less pain, discomfort, and downtime with Renuvion compared to more invasive procedures such as an abdominoplasty, brachioplasty or other procedures where large skin excisions are made. Additionally, studies have shown reduced pain and downtime after the use of Renuvion versus an alternative minimally invasive RF technology.
Long Lasting
We know the aging process can't be stopped, but through the use of energy devices, like Renuvion, we know it is possible to contract soft tissues and start the collagen rebuilding process known as neocollagensis. This process takes 6-9 months which is why effects will improve over time. Renuvion is one of the latest game-changing technologies with early data showing results lasting up to 3 years.
Book your consultation
Are you thinking about getting a skin tightening treatment, but aren't sure which option is right for you? A consultation with Dr Kahlout at Castleknock Cosmetic Clinic will give you all of the information you need. Contact us today to book your first consultation! 
Related Treatments