[one_fourth divider="true"]
Anti-What's NEW in Cosmetic Medicine
The progression of medical advancements relies on on-going scientific research. In the field of cosmetic medicine, science has come full circle, revisiting the study of basic anatomy and how the face ages.
Observing what happens to fat, muscle and bone as the face ages over time allows doctors to treat the face globally, and this concept has spurred breakthroughs in the way we address the signs of aging.
For example, a patient may come to my office wanting Botox injections to treat forehead lines; however, there is generally more happening in the face than a wrinkle or two in the middle of the forehead. I'm fond of describing an aging face by saying that "the bloom is off the rose"-in essence, the face looks tired and has lost its youthful vitality.
Patients want to look refreshed and healthy looking and this requires not just Botox but volume restoration, skin surface treatments and the introduction of skin care practices based on the patient's specific skin conditions and the evolution of their skin over time.
Celebrities Who Had Botox Injections
It's been ten years since the U.S. Food and Drug Administration first approved Botox for use on wrinkles. Between now and April 15, 2002 a lot has happened. High-profile lawsuits, medical breakthroughs, tragedies, controversies, reality TV segments and a generation of celebrities suspended in their mid-thirties. Hollywood royalty may have been the first to jump on the wrinkle-filler trend but it was years before they actually admitted it. For years their M.O. was "Deny Deny Deny", but as the rest of the country has caught up with the trend, stars are finally letting their guard down, if not their forehead skin.
Did Sharon have work done?
Click on the photo to see and judge for yourself…
[/one_fourth]
[one_half divider="true"]
Wrinkles and Emotions… Scale
Most people worry about developing wrinkles and want to delay the effects of aging as much as possible to ensure they look their best. However, a new study published in the Journal of Experimental Social Psychology may prove there are more drawbacks to having wrinkles than just the aesthetics.
Emotional Expression Scale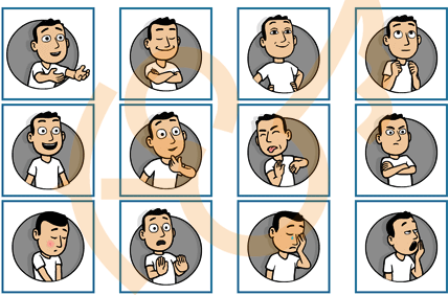 NBC News reports people with wrinkles may have a more difficult time conveying their emotions than their younger counterparts. Researchers asked three women who were between the ages of 19 and 21 and three women between the ages of 76 to 93 to display a range of emotions: neutral, happy, sad and angry.
Then, college-aged students were asked to rate the emotional expressions on all of the faces on a scale of one to seven, one being "not at all intense" and seven considered "very intense," according to the news provider. Researchers noted it was more difficult to pick out any of the emotions from the older group with wrinkles. The college students had an easier time rating the intensity of the younger faces.
Anger is seems to be mixed
"In the case of the older expresser, the anger is seen as mixed with other emotions," Dr. Ursula Hess, a professor of psychology at Humboldt-University in Berlin and the study's lead author, told the news provider. "Clearly it makes a difference whether you think someone is just angry or someone is both angry and sad."
Frown lines and worry lines between the eyebrows can often make a person look upset, unhappy or unfriendly completely unintentionally. Conveying one's emotions is important, and this could become yet another reason why people are trying to get rid of unwanted marks.
Fight against Wrinkles
According to the American Society of Aesthetic Plastic Surgery, more than $1.7 billion was spent on injectable procedures and $1.6 billion was spent on skin rejuvenation in 2012. Combined with surgical procedures like facelift, eyelid surgery and forehead lift, the numbers indicate that the fight against wrinkles continues.
.
[success]
Under the spotlight
Undereye Bags & Circles
The eyes are the windows of the soul and it's unfortunate when they're adorned with uneven eyelids, or when age or the wear and tear of life has caused puffiness and bags around them. Fortunately, you don't have to live with that sleepy, tired look. Explore the alternative of eyelid surgery – a safe, easy and effective way to make your eyes appear more youthful, rested and alert.
Dark circles under your eyes can make you look tired and haggard. But are under eye dark circles inevitable given today's 24/7, fast-paced, snooze-and-you-lose world — or can they be treated?
The first step toward getting rid of your dark under eye circles is to figure out what is causing them. Dark circles under the eyes may be caused by:
Iron or vitamin deficiency
Lack of sleep or too much sleep
Hyperpigmentation (uneven, dark skin patches)
Ill Health
Smoking
Weight loss
Side Effect of Medications
Visible blood vessels due to thin, aging skin
Fat loss that causes a sunken look
Concealers and Other Cosmetics
Concealers come in liquid, stick and pancake-type creams. These products can be applied and reapplied throughout the day, and can help cover your dark circles regardless of their cause. Their manufacturers also  claim that they do anything from de-puffing your under-eye area to moisturizing the skin in this area and lightening under eye circles.
Many of today's products contain ingredients thought to reduce wrinkles or puffiness such as caffeine, retinoic acid, copper peptides, alpha hydroxyl acids and vitamin C. Our advice? Don't break the bank trying a shelf full of products. That said, a little trial-and-error never hurt anyone, so experiment with some of the dream creams that fall within your budget and see if you like the results. If not, speak to your facial plastic surgeon about the next step in getting rid of your dark circles.
Medical Treatments
Under Eye Dark Circle | Hyperpigmentation
If your under eye dark circles are caused by hyperpigmentation, topical bleaching agents such as hydroquinone can help. Laser Skin Rejuvenation, Broad Band Laser or Chemical Peels may also be options. Dr Hazem Kahlout will go over the benefits, risks and costs of each of these hyperpigmentation removal procedures to help you make your decision on how to best eradicate under-eye circles.
Under Eye Dark Circle | Visible Blood Vessels
If superficial vascularization (visible blood vessels) under your eye is the culprit, Vascular Laser Treatments or IPL can help. These treatments must be done carefully to avoid harming other vessels in the eye area.
Under Eye Dark Circle | Fat Loss
If your dark under eye circles are caused by fat loss that creates hollows and shadows, fat grafting or certain soft tissue fillers such as Restylane-SubQ may do the trick.
Under Eye Circle | Skin Laxity
If the undereye circle is caused by lax skin, AntiLax Skin Tightening is an ideal non-invasive remedy. 3 to 5 sessions of this powerful infrared laser and radiofrequency electromagnatic energy will usually tighten the skin for a long time to come.
.
[/success]
[/one_half]
[one_fourth_last]

Cadaver Training
[success]
Facial Anatomy
RCSI London Course
Just back from an amazing 2 days training with Q-Med Galderma at The Royal College of Surgeons in London and also The Royal College of Physicians in London doing Advanced Injection Techniques using cadavers – the only course of its kind in the UK. I met the amazing Professor Vishy Mahadevan who discussed the Anatomists Perspective and showed us around the elite Royal College of Surgeons, Dr Tapan Patel who discussed facial anatomy and treatment troubleshooting as well as demonstrating the Nefertiti face lift, Mr Chris Inglefield who dissected the cadaver and demonstrated the anatomy, Dr Beatriz Molina who demonstrated cheek and facial volumization, Dr Samantha Gammell who demonstrated the use of Azzalure in the upper face and Yvette Newman who demonstrated the new Restylane lip fillers. This course is by invitation only to selected practitioners in the UK so I have been privileged to attend. It was amazing to learn new techniques by the experts themselves.
[/success]
Photo of the week
Neck Bands – Platysma
.
we hope you enjoy the contents…..
Until the next time,
Dr Hazem Kahlout
Ms Maggie Walsh
newsletter@castleknockcosmetics.ie
[/one_fourth_last]