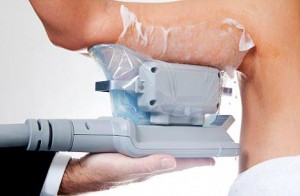 I frequently get asked: what's the deal with fat freezing? Well freezing of fat is a new technology which we adopted at our clinic in following review of literature, innovation analysis and hands-on experience from existing providers. It adds to the range of treatments we already offer in dealing with unwanted fat.
By enlarge there are two broad means of dealing with unwanted fat. One is the physical destruction and removal of the fat using traditional methods like liposuction, resection during abdominoplasty or the more advanced VASER lipo. These methods are surgical procedures associated with incisions and some form of post procedure patient recovery, downtime and possible surgical side-effects. However they are performed as a once off procedure.
As more and more patients seek minimally invasive procedures, the medical innovators and the industry have evolved to supply more refined less invasive procedures dealing with unwanted fat. These include Belkyra (Kybella) fat dissolving injections , ultrasound cavitation, multipolar radiofrequency and fat freezing. These methods share one thing in common, the destroyed fat cells will remain in the body where they undergo removal by natural metabolism. As discussed in previous blog , the destroyed fat cells will follow one of three "metabolic" pathways. One is removal through the liver, the second is recovery in the same location and the third reinstatement at a different location. Although each patients metabolism is unique, there are ways of encouraging the metabolic removal pathway. Patients are encouraged to exercise and consume catabolic enhancing foods immediately before and after the procedure for up to 3 days.
The non surgical fat freezing removal is successful in removing up to 20% of the fat cells in any treatment session however it needs a post procedure input from the patient. The desired result could is usually achieved over 2 to 4 treatment sessions spaced at 4-6 weekly intervals. Every patient is unique, some see results sooner than others and the extent of fat removed varies from one individual to another. This is discussed with our patient and compared to the 70-80% fat removal achieved by mechanical (surgical) means. The advantage of using a non-invasive method is the walk in walk out ease of the procedure and the no tell tale and no recovery time required.
Fat freezing involves placing a vacuum cupping device that takes hold of the target area and using computerised calculations as to determine the time and depth of freezing required to achieve fat cell destruction. For a typical lower abdomen the temperature required to cause destruction of fat cells is in the region of -11C and needs to be maintained for 55 to 60 minutes if the fat thickness is between 5-6cm.
To enhance the results further, ultrasound cavitation and multipolar radiofrequency devices are used pre- and post treatment. In a suitable candidate this will result in further improvement of outcome by about 10-15%.
What do you think? Did you find this blog helpful? Why not join me for meaningful and educational social media posts on Instagram I'd love to hear your comments comments@castleknockcosmetics.ie or tweet me @dr_h_kahlout. If you found this blog helpful I'd appreciate a positive review on Google Review and our Facebook page.